PUNK #0
Winter 2000
Special 25th Anniversary Edition
Price: $5.95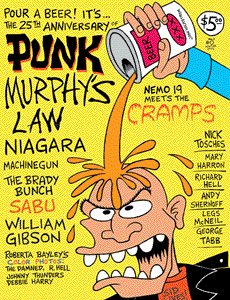 Jimmy of Murphy's Law interview (by John Holmstrom), Niagara, Color photos of Thunders, Hell, Damned, Blondie and more by Roberta Bayley, William Gibson interview (by Mary Harron), and Chris Fields of MachineGun (by Matt Shumate). Also: columns by Richard Hell, Andy Shernoff, George Tabb and Legs McNeil. Also: Interview with Sabu! And a strange encounter with The Cramps. Comics by Weiner, Holmstrom, Romagnoli and Steve Taylor.
PUNK issue #0 - Item Number: PUNK Magazine Isuue #0

PUNK #19
Winter 2007
Johnny Heff and The Bullys
Price: $6.95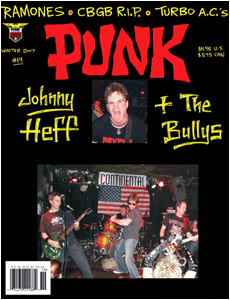 The Bullys (by John Holmstrom), and Johnny Heff by Johnny Heff, Tom Hearn's Ramones Photograhs 1976-1978. Peelander-Z, the Turbo ACs, Two Man Advantage, Cyclones. "Closing CBGB" (an investigation into how and why it was closed down). Judas Young: Punk Rock Wrestler. Comics by John Holmstrom, Avi Spivak, Robert Romagnoli, Rick Trembles, and Avidor.
PUNK issue #19- Item Number: PUNK Magazine Isuue #19

PUNK #20
Summer 2007
Sid + Nancy
Price: $9.99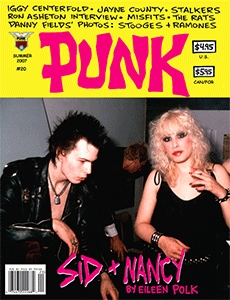 Sid and Nancy in New York," with article and photos by Eileen Polk. Ron Asheton interview by John Holmstrom. Danny Fields' photos of Iggy and the Stooges at Max's Kansas City in 1973. Also: Jayne County interview, The Rats, No Truth Lies and The Stalkers. Comics by Avi Spivak and Robert Romagnoli.

PUNK issue #20- Item Number: PUNK Magazine Isuue #20

PUNK #21
Fall 2007
A Tribute to CBGB
Price: $9.95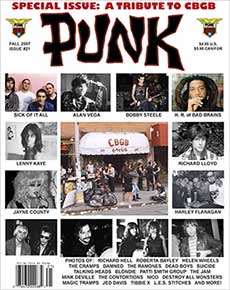 Interviews with Sesu Coleman (The Magic Tramps), Jayne County (Wayne County and the Electric Chairs), Richard Lloyd (Television), Roberta Bayley (PUNK magazine's Ace Photog), Alan Vega (Suicide), Harley Flanagan (The Stimulators, Cro-Mags), H. R. (Bad Brains), Clayton Patterson (photograher/video artist), Bobby Steele (Misfits, The Undead), Sick Of It All, the LES Stitches, Tibbie X, Jed Davis and Lenny Kaye. Articles on Helen Wheels, the Hell's Angels and The Last Night. Comics by Robert Romagnoli, Avi Spivak, Bruce Carleton, and Steve Taylor.

PUNK issue #21- Item Number: PUNK Magazine Isuue #21