News Archive
All news by John Holmstrom unless otherwise noted.
WATCH OUT! A New PUNK Magazine is Coming! Soon!
9/9/06
THE first new issue of PUNK since 2000 will be available soon - possibly at this party!
So bookmark this page and come back soon - it's a good one!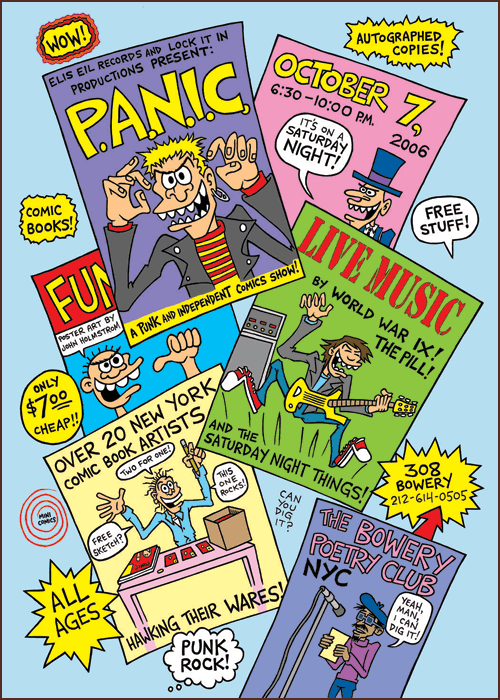 ---
PUNK Magazine Is Coming Back...!
6/11/06
Read it and weep.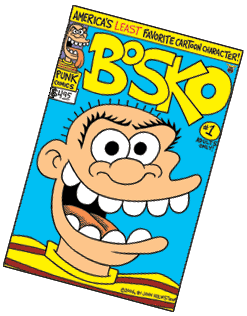 PUNK Magazine will be publishing new stuff for the first time since 2001. The first is BOSKO #1, the first full-color comic book by John Holmstrom.
Also available for the first time are art prints by John Holmstrom.
Plans are also underway for a special issue of PUNK Magazine, as well as other projects. Stay tuned to this Website for further developments!
---
New Pictures from November 30 Joey Ramone Sign Unveiling
Photos by John Nikolai
2/8/04
Click on each image for larger version.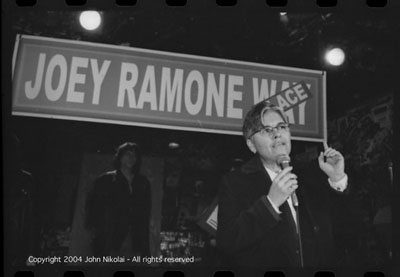 City Council member Margarita Lopez, who helped pass the Joey Ramone Place bill.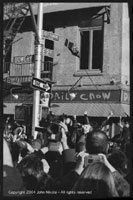 Arturo Vega pulls the cord.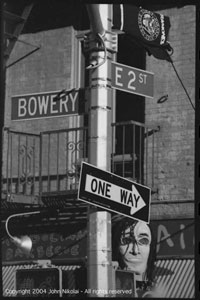 The scene prior to unveiling.
---
On The Road With The Ramones Book Signing!
12/11/03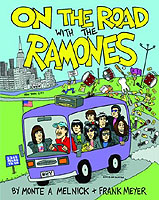 Wednesday, December 17th - 6:30 p.m.

Virgin Megastore Union Square
52 East 14th Street at Broadway
New York, NY 10003
(212) 598-4666
Monte A. Melnick, Frank Meyer, Tommy Ramone, CJ Ramone and John Holmstrom will be there!
---
Joey Ramone Place Unveiled
11/30/03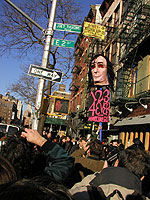 THE Joey Ramone Place street sign was unveiled at 2nd Street and The Bowery in New York City on November 30th at 2:30 p.m. Before the sign was shown to the whole world, an hour-long tribute was held inside CBGBs where dozens of Joey's friends and relatives spoke, including Tommy Ramone, Marky Ramone, Jim Jarmusch, Richie Stotts, Andy Shernoff, Handsome Dick Manitoba, Danny Fields and Hilly Kristal.
Joey's brother Mickey Leigh and mom Charlotte Lesher hosted the event, while Legs McNeil and John Holmstrom handled emcee duties. City Council members Alan Jay Gerson and Margarita Lopez represented the City of New York during the ceremonies, along with Community Liaison Bradford Sussman, who presented a proclamation announcing that November 30 was Joey Ramone Day!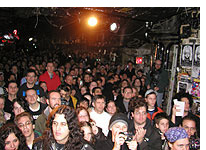 The event was attended by around 2000 people. People who arrived early enough squeezed into a jammed CBGBs during the tribute and then everyone crowded the sidewalk during the unveiling - causing massive traffic disruptions and creating an amazing scene for the hundreds of cameras there. The media turnout was impressive, since AP, The New York Post (NYC's true hometown paper), 1010 WINS Newsradio, NY1 TV News and dozens of other media outlets covered the event. In fact, all local TV and print news outlet carried the story all weekend, and CNN even mentioned Joey Ramone Place in their news ticker.
We'll provide more coverage and photos of the event soon.
---
Joey Ramone Street Sign Unveiling November 30th
11/12/03
THE City of New York is dedicating the corner of Bowery and Second Street as Joey Ramone Place on November 30th, 2003 at 1:00pm. This is the first official recognition by New York City of punk rock's influence on the culture of this great city.
This is the street corner just north of CBGBs, close to where Joey Ramone shared living quarters with Dee Dee and Arturo Vega during the 1970s, as well as the block where the first and third record covers were photographed (by Roberta Bayley and Danny Fields, respectively). This is a public event, so all are welcome to attend. There will be speeches and the sign unveiling, and hopefully we can all get a drink at CBGBs afterwards. Legs McNeil and I will be co-hosting the event, we're hoping to have a few people talk and stuff.
Everyone at PUNK Magazine is really happy that this was finally passed. Our thanks to everyone in the city government who finally found a way to make this happen. Now, let's find a way to get Johnny Heff into the Rock 'N' Roll Hall of Fame!
---
PUNK and NY Decay to host Bullys and Manglers for Holmstrom's 50th Birthday
by Chris Yonts
1/7/03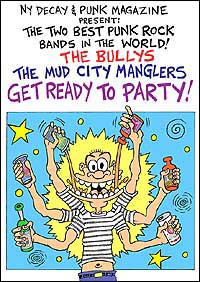 PUNK Magazine and NY Decay have joined forces to present "The Coolest Party of 2003," featuring The Bullys, The Mud City Manglers, and Meat Depressed.
There will also be "a cartoon jam session," free giveaways including 100 copies of the new "Scene of the Crime" CD, master DJs, and anticipated visits by special guests.
The occasion marks two important rock and roll anniversaries.
"It's the 25th Anniversary of the Sex Pistols U.S. tour, and also of my 25th birthday," John Holmstrom, PUNK creator, said. "I spent that one in a hotel room in Tulsa, Oklahoma getting drunk with Sid Vicious, Paul Cook and Steve Jones of the Pistols and Bob Gruen, Roberta Bayley and Joe Stevens, the tour photogs. It was a miserable time."
"[Tour manager] Noel Monk kept interrupting it to make sure no one was doing anything wrong, so it was like having mommy and daddy look in on the kids every five minutes. You couldn't buy beer after 8 p.m. so we ran out almost as soon as the party began."
"I vowed that I'd try to throw a better party someday."
Tickets are $8 in the PUNK Store ( www.punkmagazine.com/store ).
PUNK and NY Decay Present The Bullys, The Mud City Manglers, and Meat Depressed
Saturday January 11, 2003
The Pyramid Club
101 Avenue A (between 6th & 7th Street), New York City
21 and over
Doors open at 10:00 p.m.
Tickets $8 at the PUNK Store: www.punkmagazine.com/store.
---
Holmstrom and Niagara at JUXTAPOZ Show in Santa Monica
10/24/02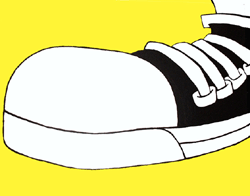 John Holmstrom, founding editor of PUNK Magazine, will showcase his first painting at JUXTAPOZ Magazine's Eighth Anniversary Art Show at Track 16 Gallery in Santa Monica, CA.
Entitled "Sneaker," it's a large picture of part of a sneaker.
"Everyone tells me they like the way I draw sneakers, so I figured that would be a good subject for my first painting," says Holmstrom. "Warhol got his start drawing shoes, so I'm painting sneakers."
"I guess I've come full circle - PUNK Magazine started when I was painting houses with [founding publisher of PUNK] Ged Dunn Jr. in 1975. That experience actually came in handy for my first painting since then. I used a real big brush for the painting."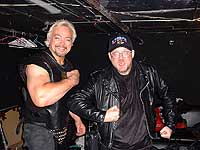 Also appearing in the show is Niagara, who has appeared in both JUXTAPOZ and PUNK many times. Both Niagara and Holmstrom plan to appear in person at the gallery opening, which takes place October 26 between 6 and 9 p.m. (Track 16 Gallery, Bergamot Station Arts Center, 2525 Michigan Avenue, Bldg. C-1, Santa Monica, CA.) Niagara has appeared in countless gallery shows and has been established as a fine artist for many years. Holmstrom has appeared in a few scattered shows over the years, most of them dismal failures ridiculed by the press.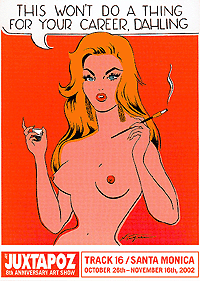 JUXTAPOZ will be showing work by 75 artists to celebrate their eighth anniversary. Other artists in the show include Robert Williams, Winston Smith, Gary Panter, Mark Mothersbaugh, (XNO), Victor Moscoso, Mary Fleener, Glenn Barr and many others. JUXTAPOZ is published bimonthly by High Speed Productions, Inc. and was founded by painter Robert Williams in 1994. Since its inception, Juxtapoz has been credited as the premier source of information about lowbrow and underground art and culture.
The exhibition will run through November 16, 2002
8th Anniversary Commemorative Juxtapoz Art Show
The opening reception will take place on Saturday, October 26, from 6 to 9 p.m. The exhibition will run through November 16, 2002. Gallery hours are 11:00 to 6:00 Tuesday through Saturday.
Track 16 Gallery
Bergamot Station Arts Center
2525 Michigan Avenue
Bldg. C-1
Santa Monica, CA
(310) 264-4678
www.track16.com/upcoming.html
---

04/2/02
PUNK Editor John Holmstrom is going to be a guest on WFMU's "Jonesville Station" tomorrow night (Wednesday April 3 2002) between 7 & 8 p.m. WFMU is broadcst on 91.1 FM and 90.1 FM in New York City, and live on the web at http://www.wfmu.org/playlists/JS.

Visit the above URL ahead of time to make sure you're ready for the live streaming webcast. In case you miss it, the show will be archived at the same page, hopefully soon. -CY
---

03/27/02
Everyone at PUNK is really happy that the Ramones were inducted into the Rock and Roll Hall of Fame. (See the full story from the event by John Nikolai.) But we're sad that Joey, who would have appreciated this honor more than anyone, wasn't there to see it.

Here's some exclusive news about the Joey Ramone Place street sign campaign: The legislation for the sign will be introduced by the City Council on March, 29, 2002 to the city government for approval. Although it's expected that Mayor Mike Bloomberg will sign the bill and the corner of Second Street and The Bowery will be renamed in Joey's honor this is not yet a done deal, as has been reported elsewhere. A competing bill calls for all honorary street signs to go through the Department of Transportation. Should this bill pass before Joey's sign is approved, it could possibly delay it. We'll be investigating this further. A street demonstration in favor of passing the street sign bill is being considered in case there are any further delays, since it's hoped by everyone that it could go up around Joey's birthday. (In related news, Mickey Leigh, Joey's brother, is planning another Birthday Bash - more details soon.)

Just in case anyone thinks it is taking a long time for the Joey Ramone street sign to go up - someone on the City Council pointed out that it took 40 years for Charlie "Bird" Parker's honorary street sign to go up, so the Joey sign has been on the extreme fast track by comparison.

In other news, work on PUNK #1 (Vol. 2) had to stop due to a lack of funds so we're putting all efforts into raising enough money to ensure that PUNK will be published for a few years without interruption. We're hoping/expecting to publish an issue or two before the end of the year.

When we're not talking with investors, we're busy giving interviews to magazines, radio and movies. Lots of interesting films are in progress. Mary Harron (director of I Shot Andy Warhol and American Psycho and a founding wrier/editor for PUNK magazine) is working on a script for Legs McNeil's and Gillian McCain's Please Kill Me. The filmmakers are thinking about using the infamous PUNK Awards Ceremony as a scene in the movie. We've posted some of our memories, and if anyone out there has recollections they'd like to share - or even better yet, photos or film - please contact us so we can pass them on to the screenwriters. They want make it as true to life as possible so any morsel of information about it would be very useful. (By the way, we removed the PUNK Awards Ceremony Poster from the store. Congratulations to those of you who purchased one - looks like it will become a valuable artifact. And maybe now more of you will take some of the other stuff off our hands now! We also plan to add more stuff soon, so be sure to check it out once in a while.)

There's also an in-depth Ramones documentary on the way. Filmmakers Jim Fields and Michael Gramaglia have interviewed dozens of people, including most of the Ramones themselves, and hope to have the movie ready for release before too long. They've collected some unbelievable behind-the-scenes stories.

Another documentary we've checked out is by filmmaker Paul Dougherty. He focuses on the band Television and their role in shaping punk rock, and those forgotten years (1974-1976) of New York rock. Almost no one has seen Television when they were influencing the whole world by playing wild, out of control rock 'n' roll, dying their hair, cutting it short, and wearing ripped clothes. By the time the world discovered punk rock, Television had kicked Richard Hell out of the band and were playing long guitar solos and became the Grateful Dead of the New Wave movement. But Dougherty unearthed some amazing footage that will add more proof that New York City is where it all began.

Filmmaker Alexandra Bourdelon and her company Frog Films are working on what promises to be a definitive documentary on 1970s punk rock. For instance, she's got some amazing footage of Malcolm McLaren (who has received the worst - and most undeserved - bad rap in punk rock history). His recollections of the classic battles with Warner Brothers over control of the Pistols and the tour are riveting. People forget that the whole scene might never have taken off if he hadn't transplanted the New York punk scene to London - where they did it bigger, better and meaner. His memories of the Pistols US Tour have yet to receive much coverage, it seems the world has only heard John Lydon's side of things. But since he's working on his autobiography we'll learn more about who did what, where, why and when.

Meanwhile, over in England, Don Letts is working on several film/DVD projects, including one on New York and US punk, a separate film on the English punk scene and a third film on the real story of Sid and Nancy. At this point everyone seems to understand that Sid did NOT kill Nancy, but no one has dug up all the details. We wish Don the best of luck in completing these projects. We think a lot of people will be interested in the results.

Mickey Leigh has created a lot of interest in a book he's writing about his relationship with his brother, Joey Ramone. There's also interest in a movie based on the book. Since Mickey was a part of everything Joey did from the time they were little kids, then when they started their first rock bands and finally Joey's long career with the Ramones, we're sure a lot of people will be interested in reading about it (as long as it isn't "Brother Dearest").

We're not sure if a movie version is planned or not, but there's word that Danny Fields is preparing his memoirs. Danny is best remembered as the Ramones' first manager, but he's also the guy who discovered Iggy so he's had as much to do with punk rock as anyone else in the world.

So, things have been very busy at PUNK magazine as we've been helping most of these producers with advice, connections and interviews. Stay tuned for more details.
---
The Rock & Roll Hall of Fame
12/21/01
First off everyone at PUNK Magazine - and everyone who ever worked with us - would like to congratulate Joey, Johnny, Dee Dee, Tommy and Marky on their induction into the Rock & Roll Hall of Fame. Our congratulations also extend to Tina, Chris, David and Jerry of the Talking Heads. It's really great that the Ramones and the Talking Heads are going in together. They shared a lot of double bills back in the 1970s (not just at CBGBs but all over the world), and were label mates on Sire Records. So we'd like to congratulate Seymour Stein along with them since he had the good taste to sign both bands back in the day. If it wasn't for Seymour, none of this would ever have happened. Both bands were too weird to be signed by anyone else in 1976. But it is ironic that all this is happening just as his label Sire Records (home of The Ramones, Talking Heads, Richard Hell, Dead Boys and even Madonna's first LP) is closing down.
Some people are complaining that CJ isn't a part of the party, and Richie has his supporters. Heck, if it were up to me, Elvis Ramone (aka Clem Burke, who lasted one weekend) would be included. It's too bad that the RRHOF election process creates these kinds of controversies. Since The Ramones have become associated with controversy over the years, maybe it's fitting. Then again, most of us think that if Marky's going, CJ should. Maybe even Monte Melnick, their road manager, or Arturo Vega, their lighting director should go as well, since they were unofficial Ramones. But it's not up to us, and ultimately it's not really all that important, is it? As long as at least four Ramones make it, it's cool and one extra adds to the excitement. Some of the others being inducted with the Ramones and the Heads make for a cool list: Isaac Hayes, Chet Atkins, Gene Pitney... Too bad it's the Tom Petty Heartbreakers instead of the Thunders/Hell Heartbreakers going in with them though.
All in all, considering the RRHOF's past record of ignoring the greatest bands in the history of rock 'n' roll like Alice Cooper; Black Sabbath; Iggy and The Stooges; MC5; The New York Dolls; The Godz; The Sonics; The Kingsmen; The Standells; The Dave Clark Five and a zillion other great garage, heavy metal and glam bands... AND INSTEAD voting in performers with no rock 'n' roll credentials but a lot of money and influence like Michael Jackson; Crosby Stills and Nash; The Eagles; The Mamas and the Papas; Billy Joel; Paul Simon and The Grateful Dead... Well, this has to be considered a minor miracle. Also, don't forget that the Rock and Roll Hall of Fame contains a lot of PUNK Magazine originals such as the original artwork for PUNK #3 (with Joey Ramone); the original artwork for the back cover of Rocket to Russia, a full set of PUNK magazines and a hubcap legs McNeil stole from David Bowie's limousine when he visited CBGBs in 1977.
The official induction will take place in New York City on Monday, March 18, 2002 and VH1 will show the ceremony at 9:00 p.m. (ET/PT) on March 20th, 2002.
In other Ramones news, Joey Ramone's first solo CD single ("Merry Christmas [I Don't Want To Fight]"/"I Couldn't Sleep At All Last Night") is out on Sanctuary Records and available at stores now. His full-blown CD, Don't Worry About Me, featuring 11 tracks and the two CD single tracks, will be released in mid-February. We'd like to encourage everyone to purchase copies at locations that will be tracked by SoundScan (like Tower Records, which also distributes PUNK Magazine) so when you buy it, its chart position will improve.
Meanwhile, here at PUNK Magazine we've been helping Maureen Wojciechowski with her campaign to get East Second Street and The Bowery renamed Joey Ramone Place. It's the perfect place for it - right next to CBGBs and very near to the loft he shared with Dee Dee and Arturo Vega during the 1970s. There's supposed to be a big party when it happens so we hope to tell you all about it when it happens.
The worst news has been the lack of developments regarding the release of PUNK #1, Volume 2, featuring The Bullys on the cover. We've had every kind of bad break to delay its production that we could imagine and then some. We'll have further news soon. Right now the release date is slated for early 2002.
Finally, "Kate & Leopold," the Meg Ryan movie that stars the PUNK Magazine rooftop, opens Friday December 21, 2001. We hope to have a review shortly after it comes out.
- John Holmstrom
Editor/Publisher
PUNK Magazine