Bob Quine
1942-2004
by John Holmstrom
Photos by Roberta Bayley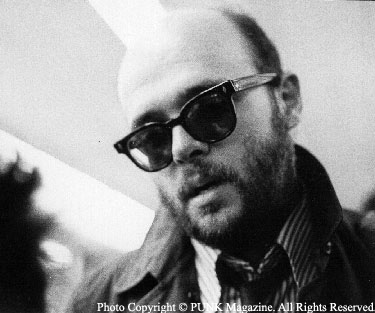 Bob Quine, best known to PUNK Magazine readers as the guitar player for Richard Hell and the Voidoids (and their signature song "Blank Generation"), died over the Memorial Day weekend. His wife Alice passed away last August. Apparently Bob never recovered from this sudden tragedy.
Bob also played and/or performed with Lou Reed, Marianne Faithfull, Material, James Chance, Matthew Sweet, Tom Waits, Lloyd Cole, Brian Eno, John Zorn, Jody Harris and Fred Maher (among others).
Bob was also an important contributor and friend to PUNK magazine. He co-starred with Richard Hell in our first feature-length graphic novel, "The Legend of Nick Detroit." He also appeared in "The Tang Connection" in the opening scene with Mary Harron (who went on to fame and fortune as a film director: "I Shot Andy Warhol," "American Psycho") and Adam Trese (who did likwise as an actor: "Palookaville," "Illtown," "2BperfectlyHonest"). But even Mary and Adam would admit that Bob dominated their scene.

For all that, he was also an underappreciated musician, a good neighbor, and a great guy. He's the prototype for the CBGBs musician who was never a "rock star." More power to Richard Hell for forming the Voidoids with a guys like Quine, Ivan Julian and Marc Bell (aka Ramone), who were musicians first.
If there's one thing missing from the other memorials and obituaries that I have read about Bob, they missed the Bob Quine I knew. I remember many times I hung out at CBGBs and had many pleasant conversations with him about all kinds of trivia. I remember him as this down-to-Earth, normal guy who would always offer a funny observation or a wry smile at the right time. He was definitely not a snob, and was always gracious and pleasant. He was always great to work with during our photo shoots - no ego, no star trips and always willing to go along with our jokes, no matter how outrageous. And his work during those shoots shows what a great sense of humor he had and what a natural actor he was - in addition to being a great musician.
Although other people thought otherwise, this is the Bob Quine I knew.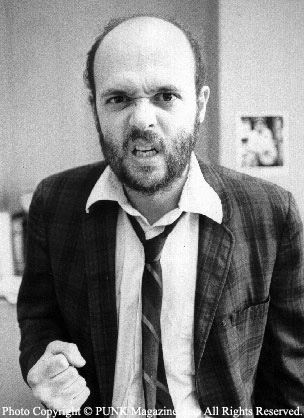 I saw Bob just a few days before he died, and he seemed in good spirits, getting over his wife's death, and ready to return to the New York City rock 'n' roll scene. I encouraged him to do so, and asked him to call me so I could help him set up some gigs. I knew that so many of today's punk rock musicians would have been so proud to share a stage with him. I know how much respect he had among the New York City rock 'n' roll community. So this is such a great loss... Many people will miss him for so many reasons.
His death seems very untimely, and his suicide has cheated both him and his fans from more of his great music. But you have to respect that his personal unhappiness over the loss of the person he loved so deeply was just too much for him to go on living. This kind of deep love and affection is something many of us will never experience, but must respect, even if we can't understand the drastic circumstances he took to end his pain over his loss.
Bob Quine Websites:
home.earthlink.net/~stayclean/quine.html
www.furious.com/perfect/quine.html
www.furious.com/perfect/quine2.html
www.i94bar.com/ints/quine2.html
From Lou Reed's statement released to Billboard.com: "Robert Quine was a magnificent guitar player - an original and innovative tyro of the vintage beast. He was an extraordinary mixture of taste, intelligence and rock 'n' roll abilities coupled with major technique and a scholar's memory for every decent guitar lick ever played under the musical sun. He made tapes for me for which I am eternally grateful - tapes of the juiciest parts of solos from players long gone. Quine was smarter than them all. And the proof is in the recordings, some of which happily are mine. If you can find more interesting sounds and musical clusters than Quine on 'Waves of Fear' (from Reed's 1982 album "The Blue Mask"), well, it's probably something else by Robert."
Marc Bell (aka Marky Ramone, from Ramones.com): "I will always miss Bob , he was one of a kind, fun to be with ,an exceptional talent, with a wonderful sense of humor, and above all a gentleman."
"He was a marvelous guitarist, a soulful music lover with high standards and had an eviscerating wit," Patti Smith Band drummer Jay Dee Daugherty told Billboard.
Richard Hell posted this list from James Marshall (The Hound from High Times magazine for many years) on his website's message board:
Quine's jazz favorites... Miles and Ayler were at the top (especially Miles electric period from 69-74, and also w/ Bill Evans and Coltrane in the late 50's), Ayler esp. w/ Gary Peacock on bass (in fact he loved anything with Gary Peacock on bass). Also he loved Lee Konitz (Motion was one of his all time top LPs), Bill Evans, Charlie Parker, Charlie Christian, Jimmy Raney, Jim Hall (think he took a few lessons from Hall at some point).
Non-jazz stuff Quine was obsessed with: J.J. Cale, James Burton, Joe Osborne (bass player, Quine even bought records by the Carpenters and America for his bass playing), Ritchie Valens, Mickey "Guitar" Baker, Ike Turner, and Pee Wee Crayton. I should throw in "Cranberry Blues" by Robert Williams and the Toppers, a 45 I turned him onto that he mentioned in nearly every conversation we ever had.
I forgot Grant Green - a major obsession for Quine, especially his Blue Note stuff and his work on Sam Lazar's Space Flight and Horace Parlan's Up and Down. Lester Young's Aladdin sides, Louis Armstrong's "Stardust" (the alt take). Also he loved some of Albert Ayler's worst stuff (which is amazingly sick) like sides he cut with Canned Heat's Harvey Vestine such as "Drudgery" and "Toilin'". On some of these Ayler tries to sing and it's so sad it's funny.
Nonjazz: early Stones, anything on Sun, Ace, and Fortune. One of the things he seemed most proud of was backing up Andre Williams on a few tracks on his Bait and Switch LP (the only job I ever got for him that he took), Bo Diddley, Chuck Berry, the Memphis Slim stuff w/Matt "Guitar" Murphy (Vee Jay and United sides).
Jimmy Reed was another big one. Bob claimed to have fronted a band called the Garbage Vendors that did all Jimmy Reed tunes in the early sixties, he played guitar and rack harmonica. Also Jimmy Reed's sidekick Eddie Taylor.
Quine's first music job was playing bass in an Akron band called the Constellations whose claim to fame is that the sax player had once been in the Caps (an Akron rockabilly band Quine loved and saw once playing at the Fair Lawn Lanes bowling alley in Akron). The Caps cut three 45s - "Daddy Dean" b/w "Red Headed Flea," "Daddy Dean pt. 2," and "What the Heck," all on the White Star label out of Akron.
Add to list of Quine's favorite music - Albert King, Jimi Hendrix, Freddie Cannon's "Tallahassee Lassie" (guitar solo by Kenny Paulson), Roy Buchanan and Harvey Mandel.
And here's part of a Richard Hell post at his Message board at richardhell.com:
Later I'll take my shot at trying to get down what was supreme about him as a musician. I mean later on another day. No maybe I have to talk about music. Because really music was absolutely everything to him. It's where he got almost all his pleasure and where he had about his only hope of doing something he could take pride in (though he seemed to never dream he could reach the level of his idol players, like Miles and Lou Reed). He was into movies (one of the first links we had, before we played together, was the amazement that we'd both discovered Hugo Haas) and books (Nabokov and Burroughs at the top of the list), but when you talked about them with him, as advanced as his taste was, still you couldn't help picking up that it was ultimately frivolous, because it was music that mattered to him. And that was basically rock and roll from its birth through 1961 or so (with a few very important later-date exceptions like the Velvet Underground, the Stooges, and the Byrds), and jazz from the late forties through Miles Davis's and his top contemporaries' (and Eric Dolphy's and Albert Ayler's) catalogs.